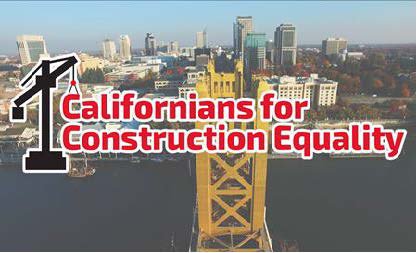 Coalition Announcing Effort to End Union Discrimination on Construction Work in Sacramento Region
---

Sacramento Entities Controlled by Big Labor Special Interests Are Denying Workers the Right to Work While California's Environmental Laws Are Being Used to Extort Union Agreements on Private Work.
 
March 17, 2022 – SACRAMENTO, CA – With the $1.2 billion Aggie Square union-only Project Labor Agreement (PLA) the latest example of construction union greed in the region, a coalition of contractors, developers, apprentices and associations are coming together to form an entity that seeks to re-establish equity and fairness in the construction community while exposing the environmental extortion occurring on private projects that keep, among other things, affordable housing from being built.
In recent years union-only PLAs (or "Community Workforce Agreements") have been forced on the new Kings Arena, State Courthouse being built at the rail yards, Aggie Square, the Convention Center expansion, Memorial Auditorium renovation and numerous other public and private projects that would have otherwise been open to all local workers, apprentices and contractors-including the 87% who are union-free-thereby increasing bidders and reducing costs to taxpayers and owners.
These PLAs, "negotiated" by local union bosses, make it all but impossible for union-free construction workers and apprentices to be employed on any of the projects covered by them. PLAs achieve this using a few key provisions:

• Local non-union construction firms are allowed to use only a few of their own workers. The rest must be union.
• These few workers who are allowed to work must pay union dues which means up to $1000 out of their first paycheck is taken and goes to a group they do not wish to belong to. 
• The workers are next forced to pay into union health, welfare and pension plans that require up to 5 years to vest in. This equates to up to $20 per hour taken from each of these workers never to be seen again. This is wage theft and, when combined with the other mandates, discourages union-free firms from even bidding. 
• Only union apprentices are allowed to work meaning that young men and women in state approved non-union programs are explicitly excluded from working on these projects at all! 

"Local big labor special interests have used their bought and paid for politicians to lock up work for themselves under a monopoly PLA thereby discriminating against local workers and raising costs to tax and rate payers," said Eric Christen, Executive Director of the Coalition for Fair Employment in construction (CFEC), a statewide organization created to fight PLAs. "On private projects they have turned to California environmental law, like CEQA, to hold up projects until the owners succumb to this extortion and sign a PLA. Both instances are helping to drive building costs up and people out."

The group will announce its intent to fight back using a variety of tactics including but not limited to helping to elect fair-minded people to office who will pledge to represent all citizens, opposing PLAs and CEQA abuse using paid and earned media and employing legal means to try and end the use of these forms of discrimination all together.
The press conference will take place at 11:00am in front of Sacramento City Hall.