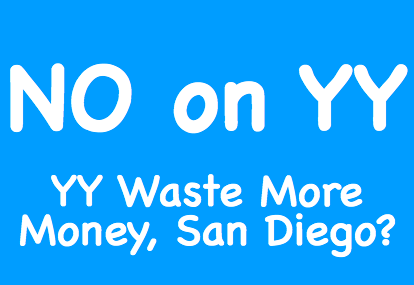 Coalition of Parents, Businesses, and Taxpayer Advocates Urge NO on Measure YY – San Diego Unified School District Bond
---
For Release: October 4, 2018
Dave McCulloch / 760-717-4100
$3.5 Billion Bond is a Costly Bailout for Mismanaged San Diego Unified School District
WHAT: With just days before ballots arrive in voters' mailboxes, the NO on Measure YY campaign will lay out its case with a coalition of parent, business, and taxpayer representatives. Among the key points that will be made:
Under Measure YY, the average San Diego homeowner will be forced to pay $1358.50 a year in taxes – up $60 to reach $247 for every $100,000 dollars of value.

Many of the projects on the Measure YY bond list were listed on a previous bond measure approved by voters in 2012! Evidence is clear that the bond is being used to plug the budget deficit. SDUSD has recklessly mismanaged its finances – giving away salary hikes, spiking pensions and hiring to many administrative staff in its bloated bureaucracy.

SDUSD already has $13.4 billion in bonded debt and interest payments – way more debt than is advisable. This is on top of the billion-plus pension liability SDUSD faces.

$2.1 billion in previously issued SDUSD bonds are still UNSPENT – spend that money first before borrowing more

Enrollment has declined 11% - but the school district has failed to adjust its spending program to reflect this new reality

Despite a vote in 2012 of two-thirds of San Diegans on a ban on use of discriminatory Project Labor Agreements (PLAs), SDUSD will use PLAs on all their project work – increasing the cost to taxpayers by 25 percent on each project.

WHEN:
Thursday, October 4, 2018 at 1 pm
WHERE:
San Diego Unified School District Headquarters, 4100 Normal Street, San Diego, 92103
WHO: 
Carl DeMaio, former San Diego City Councilmember
Eric Christen, Coalition for Fair Employment in Construction

Bret Caslavka, President, San Diego Parents for Quality Education

Stephen Rosen, Finance Chair, San Diego Parents for Quality Education
WHY:
"The San Diego Unified School District board has recklessly mismanaged its finances and now wants struggling San Diego families to pay over $1000 each to bail them out." – Carl DeMaio
"If approved, Measure YY funds would be awarded using discriminatory Project Labor Agreements that disqualify non-union construction contractors – predominately small businesses and businesses owned by women, minorities, and veterans – from working on projects." – Eric Christen, Coalition for Fair Employment in Construction
"Vote NO on Measure YY because we simply cannot trust the San Diego Unified School District with more of our money." – Stephen Rosen, San Diego Parents for Quality Education
"Since 1998 SDUSD has asked and received taxpayer approval for $6.4 billion in bond measures they promised would fix our schools, but we have been lied to and the money has been squandered – vote NO on Measure YY." – Bret Caslavka, San Diego Parents for Quality Education
###