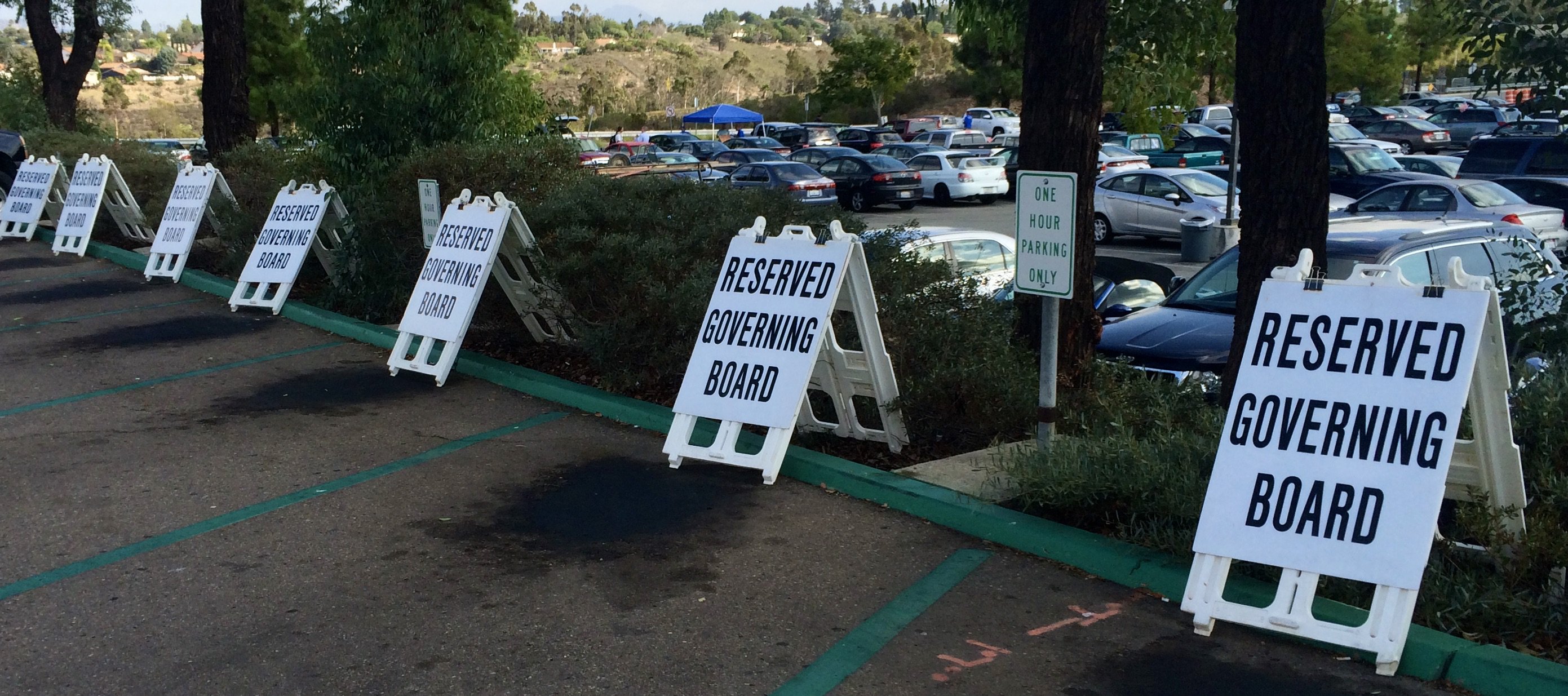 Learning Nothing from Experience: Grossmont-Cuyamaca Community College District Board to Expand Failed Project Labor Agreement
---
Tonight (January 21, 2020), the elected board of trustees for the Grossmont-Cuyamaca Community College District will vote to direct staff to negotiate the extension of the Project Labor Agreement (PLA) it first approved in 2016.
That Project Labor Agreement applied to three projects funded by what was left from a 2012 bond measure called Measure V. These three projects were the Phase 1 Arts & Communications Complex – Teaching & Performance Theater at Grossmont College, the Phase 1 Science, Math & Career Tech Complex, Building 31 at Grossmont College, and the Ornamental Horticulture Complex at Cuyamaca College.
This expanded Project Labor Agreement up for a vote tonight will incorporate "projects funded by local bonds, state bonds, and other large facilities funding." In other words, no projects of any significance will escape the union monopoly.
What a generous gift from elected officials to union special interests!
Because many construction companies in San Diego County want nothing to do with signing special labor agreements that unions negotiated with their political allies, the Grossmont-Cuyamaca Community College District has experienced a 40% decline in their bidding pool. (This was the underlying purpose of the Project Labor Agreement - cutting competition and raising costs - so no wonder the unions and college board think it was a success.)
In November 2016, voters rejected another bond measure (Measure X) for the college district. Opponents of the bond measure informed the public that the board of trustees had already committed to require construction companies to sign a Project Labor Agreement with unions for projects funded by Measure X.
The district established a "Grossmont-Cuyamaca Community College District Project Labor Agreement Evaluation Plan." The Project Labor Agreement (PLA) Evaluation Report presented to the board of trustees on November 19, 2019 by a construction consulting firm identified some examples of poor performance under the Project Labor Agreement:
• Local hire targets were not achieved on either the PVAC or Building 31 projects. (page 4).
• On the PVAC project only 11 blacks, 5 vets and 14 females were hired out of a workforce of 1186. (page 5)
• On the Building 31 project 6 blacks, 5 women and 3 vets were hired out of a workforce of 403. (page 6)
• Excessive Costs: Two of the three projects had to be re-bid due to lack of bidders and/or costs over engineers estimates. The third project (not re-bid) was $400,000 over estimate.
• To date the PLA has cost $440,591 just to administer. (What could that money have been used to build?)
• These findings were presented without any context or comparison to other similar public works projects in the region that did not include a Project Labor Agreement in the bid specifications. For obvious reasons.
The Board of Trustees can be contacted here. Click on the blue link to email them.
---
8.7 Project Labor Agreement (PLA) Evaluation Report; Refer to Item 16.4 - November 19, 2019
Marty Glaske Vice President, Labor Relations Gafcon, Inc., will provide an overview of the activity related to the Prop V Project Labor Agreement and a progress update on the Evaluation Plan.
http://go.boarddocs.com/ca/gcccd/Board.nsf/goto?open&id=BHGTN5781FDB
16.4 Project Labor Agreement and Evaluation Plan Update - November 19, 2019
This update is presented to provide an overview of the activity related to the Project Labor Agreement and a progress update on the Evaluation Plan. The update is presented by the District's program/project management firm, Gafcon.
 
http://go.boarddocs.com/ca/gcccd/Board.nsf/goto?open&id=BHGU527A509E