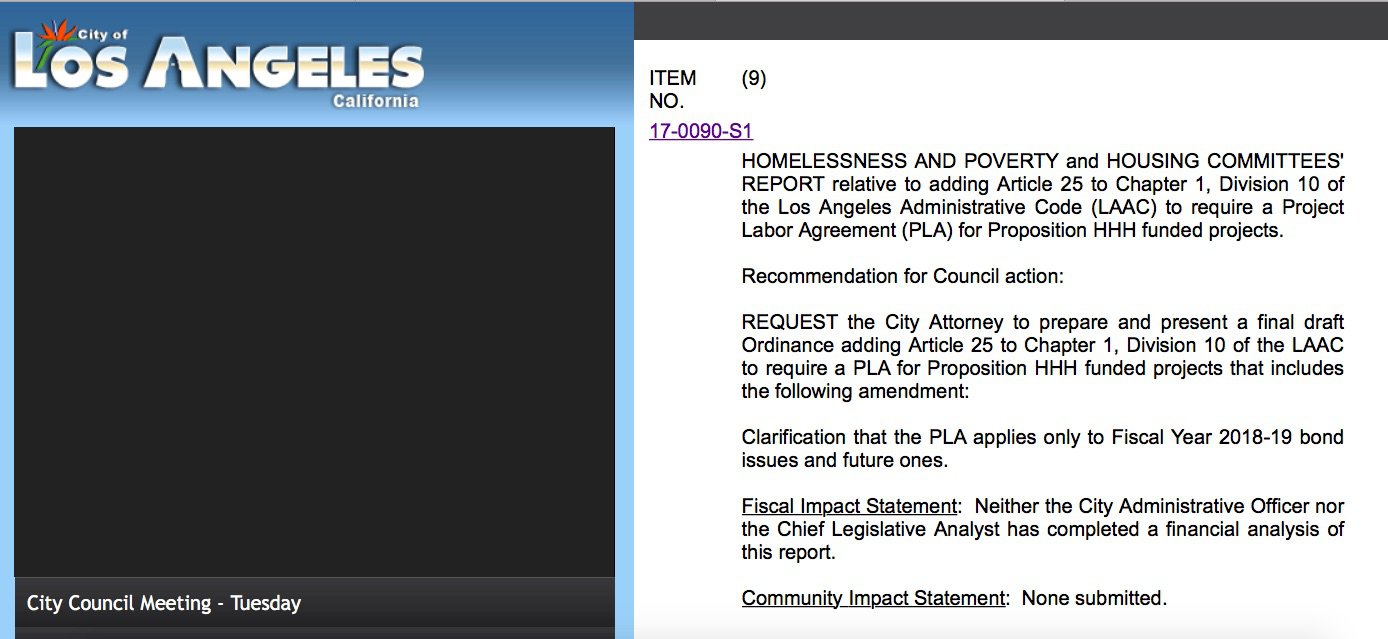 Los Angeles City Council Helps the Unions Before It Helps the Homeless
---
Construction Companies Must Sign Union Agreement as Condition of Building Los Angeles Projects Funded by Proposition HHH
The Los Angeles-Orange County Building and Construction Trades Council, AFL-CIO, obtained a monopoly today (Tuesday, February 20) from the Los Angeles City Council on construction of units for the homeless that are funded by Proposition HHH.
The city council voted to require construction companies to sign a "Project Labor Agreement" with unions as a condition of winning contracts to build projects funded by Proposition HHH. This union mandate will cut competition and increase costs for housing construction.
"The city didn't even bother to prepare a fiscal impact statement, for obvious reasons," said Eric Christen, executive director of the Coalition for Fair Employment in Construction, an organization that advocates for fair and open bid competition on construction projects in California. "A cost increase of 15% would have been a reasonable estimate."
"Los Angeles politicians have to pay off the unions before they tackle homelessness," Christen said. "Why else would anyone vote to discourage bidding from capable, responsible companies with experience in building residential developments and affordable housing?"
Christen notes that all contractors working on Proposition HHH projects are already required to pay state-mandated prevailing wages (which are union wages) and abide by federal, state, and local labor and employment laws. But a Project Labor Agreement also requires workers to be dispatched from unions, employee fringe benefits to go to union-affiliated benefit programs, and workers to pay dues and initiation fees to unions. It is a contract with unions.
Los Angeles voters approved Proposition HHH in November 2016. It authorizes the city to borrow $1.2 billion to construct an estimated 10,000 units for the homeless. The Project Labor Agreement will likely increase costs and reduce the number of units that are built.
###