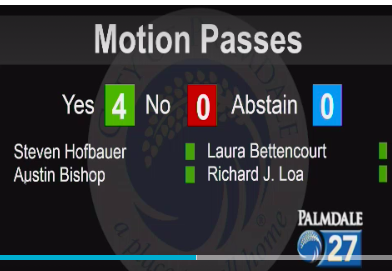 Palmdale City Council Mandates Project Labor Agreement and Then Repeals Accountability for Local Hiring and Contracting
---
The Antelope Valley (north of Los Angeles) has dramatically transformed in 10 years from a solidly conservative region into a place where politics and government policies are dominated by labor unions and other Big Government interests.
On October 2, 2018, the Palmdale City Council voted 4-0 to require all companies to sign a Project Labor Agreement (aka "Community Workforce Agreement") with unions as a condition of working on any construction contract exceeding $250,000 for multi-trade contracts and $100,00 for prime specialty contracts. (In other words, just about any contract of any significance.)
With this union mandate in place, obviously the Los Angeles/Orange County Building and Construction Trades Council has no interest in subjecting its signatory contractors or its hiring halls to accountability for local hiring and local business participation. So some additional laws needed to be passed.
On March 5, 2019, the Palmdale City Council voted 4-0 to exempt construction companies from the city's "Local Preference" ordinance for contractors if they are signatory to the city's Project Labor Agreement. This ordinance to encourage local bidding and contracting was enacted by the city council in 2010.
Also on March 5, 2019, the Palmdale City Council voted 4-0 to repeal the city's "Economic Opportunities Program" ordinance that "encourages contractors who receive city contracts to hire residents of the Antelope Valley." The policy included ten specific items contractors would do to prove a "good faith" effort to hire local workers. This ordinance was enacted by the city council in 2007.
Allegedly the Project Labor Agreement ends concerns in the Antelope Valley about workers and companies that come from Los Angeles. Antelope Valley residents can simply go to the unions and ask to get trained and dispatched to jobs. Before any of that happens though, they must pay union initiation fees and dues. Meanwhile, Antelope Valley companies can sign a Project Labor Agreement or a Master Labor Agreement with a union or unions.
City of Palmdale Project Labor Agreement (with associated staff report)
City of Palmdale Exemption from Local Preference Policy for Contractors Signatory to Project Labor Agreement