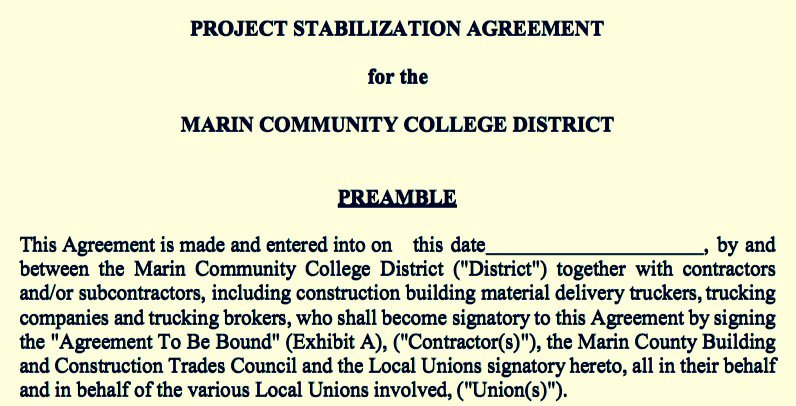 Super-Speedy Project Labor Agreement Negotiations Done for College of Marin: Board Vote on April 18
---
This was sent on April 18, 2016 to the Marin Community College District (College of Marin) Board of Trustees before their vote on a Project Labor Agreement with the Marin County Building and Construction Trades Council. See the agenda item: Consideration and Possible Action (Measure B - Bond Program) - Project Stabilization Agreement (PSA) between MCCD and the Marin County Building & Construction Trades Council
---
Why is a PLA good on projects over $2 million but not good on projects under $2 million? - Agenda Item H.11.
Trustees,
Seeing that your boilerplate PLA (attached) was "negotiated" in less than a month (a record in my 18 years of fighting PLAs) and is ready to be voted on tonight, there is something I find even more vexing than the usual waste and discrimination found in these political documents: The $2 million threshold. Why, if you have found PLAs to be worthy for any project let alone a myriad of projects, would this "agreement" not be good for all projects? PLA proponents after all have told us time and again that PLAs will: 
Increase bidders
Bring projects in on time and on budget
Make it easier to hire veterans
Increase the quality of the work
Reduce strikes and work stoppages
Guarantee workers are paid a fair wage
Guarantee workers receive medical and pension benefits
Increase local hire
Reduce melanoma cancer and bring an end to global warming
Ok, maybe not the later. Yet. But seriously, if you have concluded as a body that a PLA will in fact achieve these goals, as you must have for why else would you be voting on it tonight, then why not have it cover all projects?
Do you not see the problem here?
Might I suggest a reason why in fact a PLA will not cover a significant portion of the bond money you now have at your disposal? You know this thing is nonsense and that your vote is nothing more than a move to placate big labor special interests. Period. I mean let's look at what a board with no construction experience will be forcing anyone who agrees to work under the PLA to do: 
Contractors are limited to using FOUR of their own workers. FOUR. (Article 13.2) 
Non-union workers are forced to pay union dues. (Article 12)
Non-union workers lose all their benefit monies to unions. (Article16) Really? You couldn't event "negotiate" that a worker gets to keep their hard earned money?
Apprentices in state and federally approved programs that happen to be non-union are explicitly forbidden from working on your bond work. (Article 15) 
Knowing how outrageous these provisions are, provisions that have nothing to do at all with construction but everything to do with keeping big labor form having to compete, you gave those groups less politically powerful some bread crumbs. Or, as William Wallace might have said, "scraps from Longshanks table."
Just so we are clear what is happening tonight.
Eric Christen
Executive Director
Coalition for Fair Employment in Construction