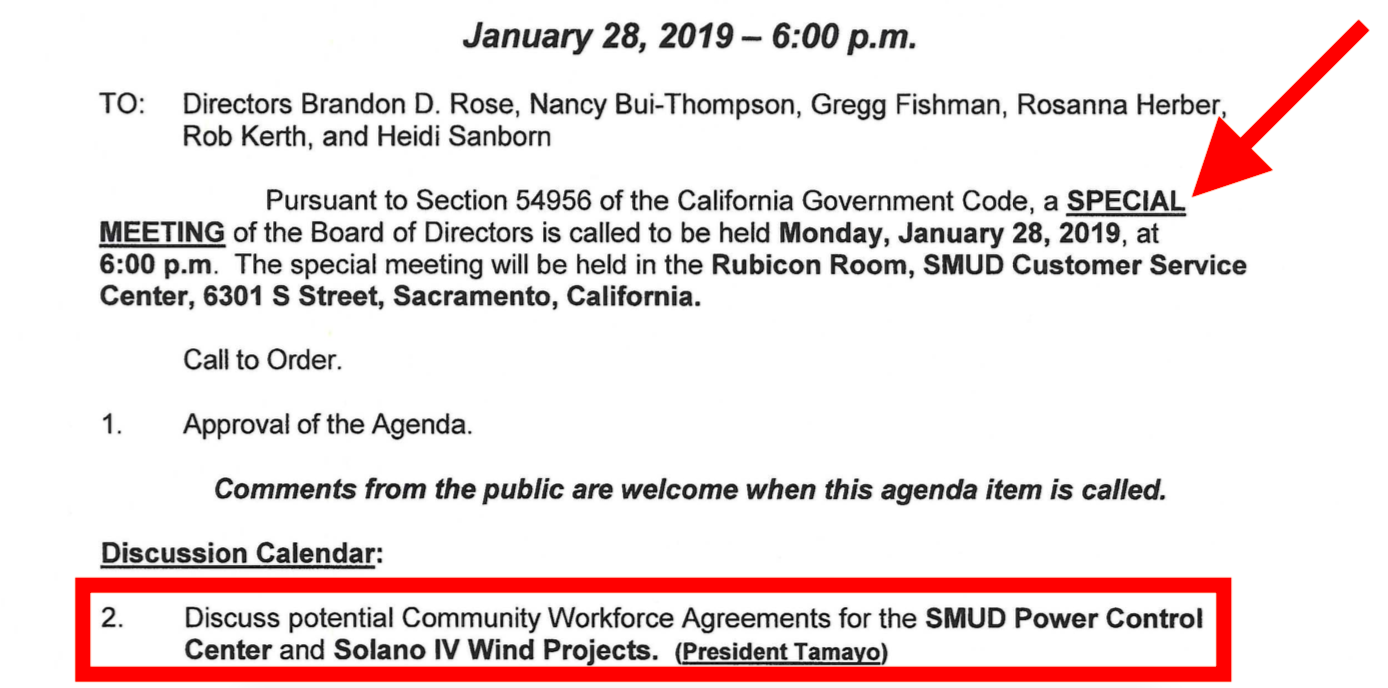 Sacramento Municipal Utility District Schedules "Special Meeting" to Give Love to Unions with More Project Labor Agreements
---
Unions are taking advantage of turmoil in Northern California's electricity supply market and demanding more monopolies on Sacramento Municipal Utility District (SMUD) energy infrastructure.
Today (January 28, 2019), the SMUD board will hold a "Special Meeting" to discuss requiring construction companies to sign a Project Labor Agreement with labor unions as a condition of working on the Power Control Center & Solano IV Wind Projects. See the agenda: Special Meeting of Sacramento Municipal Utility District (SMUD) Board of Directors - January 28, 2019.
"There's always a special interest group ready to take advantage of captive consumers when trouble happens," says Eric Christen, executive director of the Coalition for Fair Employment in Construction (a 21-year old California organization that vehemently opposes Project Labor Agreements). "In this case, it's construction unions."
Christen predicts that union officials will use the meeting to remind the SMUD board of their long history of blocking energy projects by exploiting the California Environmental Quality Act (CEQA) and the power plant licensing process of the Warren-Alquist Act.
"It's called 'greenmail' - using environmental laws to block projects to get economic payoffs - and the SMUD board is scared of it," says Christen. "They need to be a little more afraid of the ratepayers and stand up to the union pressure."
Christen also remembers how the low bid in 2016 for the SMUD headquarters renovation - covered by a Project Labor Agreement - came in $30 million over the estimated cost.
This "Special Meeting" of the Sacramento Municipal Utility District Board of Directors is at 6:00 pm tonight (January 28, 2019) at the SMUD Customer Service Center Rubicon Room at 6301 S Street in Sacramento.
Note that SMUD has not provided a staff report or any other background information for the public about Project Labor Agreements. The agenda even refers to PLAs as "Community Workforce Agreements" to disguise their true nature as union favoritism.