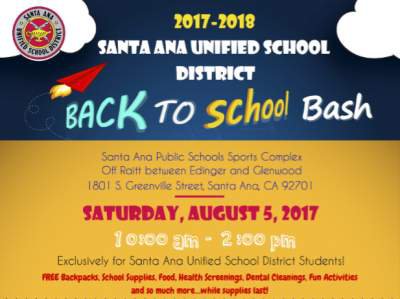 Warning to Santa Ana Unified School District Board: Project Labor Agreement on August 23, 2017 Agenda
---
It's the Back-to-School Bash that REALLY matters at the Santa Ana Unified School District: paying off unions for their campaign contributions to the school board.
TONIGHT (August 23, 2017), without ANY previous public discussion, the Santa Ana Unified School District Board of Trustees is set to vote on a negotiated Project Labor Agreement (PLA) with unions to apply to construction contracts funded by the district's remaining Measure G funds.
Santa Ana voters approved Measure G in June 2008. It authorized the school district to borrow $200 million via bond sales to investors and pay them back over decades, with interest.
Voters had approved Measure C in 1999 to authorize the district to borrow $145 million for school construction. Much of the money was squandered on various foolish schemes, including a Project Labor Agreement.
Unions benefited greatly from the waste on Measure C, so of course they want more of it  And it looks like a majority of the school board is happy to give it to them. Here is the proposed Project Labor Agreement: Proposed Project Labor Agreement - Santa Ana Unified School District