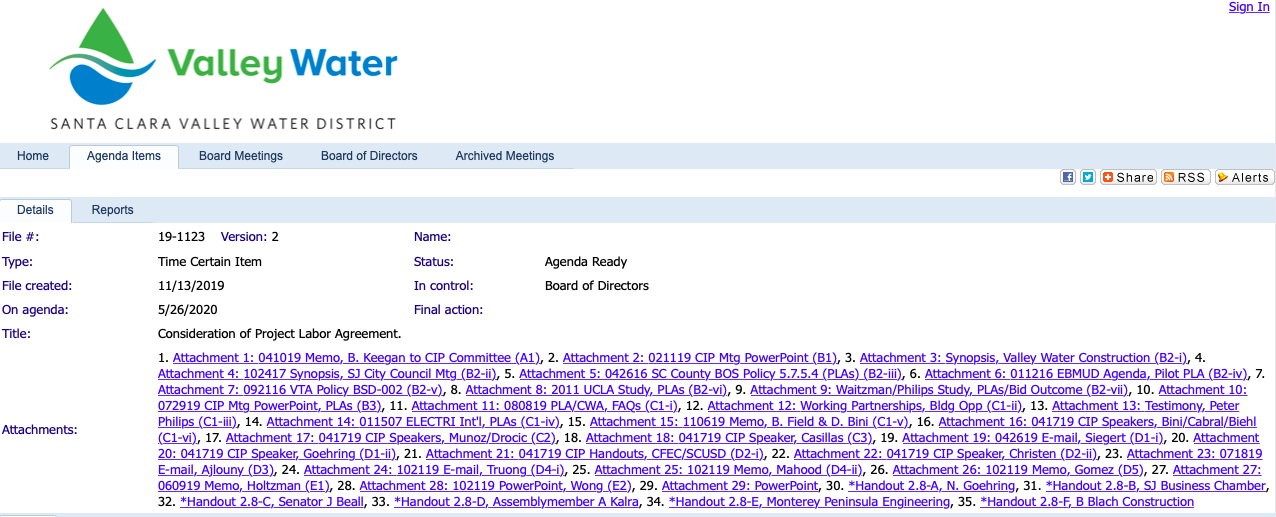 Santa Clara Valley Water District Board Votes on Project Labor Agreement
---
The board of the Santa Clara Valley Water District first received a presentation about requiring construction companies to sign a Project Labor Agreement on December 4, 2015. At that time, district staff recommended against a board-imposed mandate for contractors to sign a union agreement.
Almost four and a half years later, the board is about to succumb at last to the union political pressure.
Tonight (May 26, 2020), the board votes on whether to proceed with negotiating a Project Labor Agreement with the Santa Clara & San Benito Counties Building and Construction Trades Council. The unions have demanded that every contract include a requirement for the company to sign an agreement with the unions. See the agenda item here:
Consideration of a Project Labor Agreement
As of 4:30 pm in the afternoon before the evening discussion and vote, there are 35 documents posted in association with the agenda item. Has any other issue considered by the Santa Clara County Water District ever attracted so much attention? 
Obviously a government-sanctioned monopoly on construction jobs for this major water district would be an achievement for labor unions. Project Labor Agreements are meant to cut bid competition and raise costs of projects. Will the board of this water district side with ratepayers, or unions?