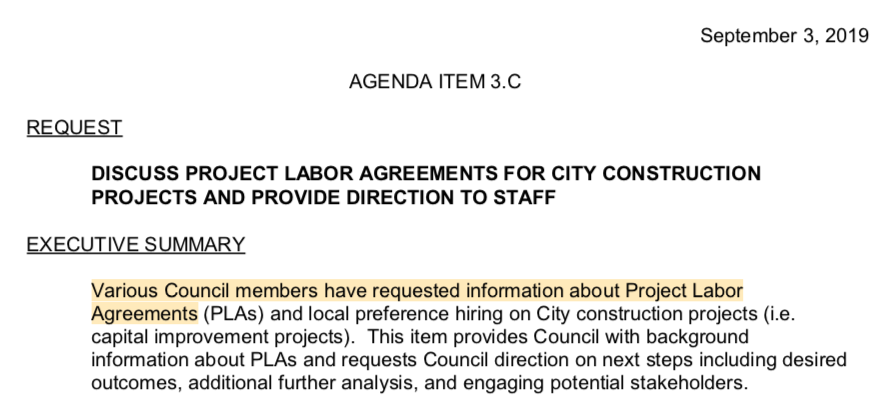 With Three of Five Members Desperate for Union Campaign Support in County Supervisor Race, Tracy City Councilmembers Want Project Labor Agreement Vote
---
One of the axioms of opponents of Project Labor Agreements: "Behind every push for a Project Labor Agreement is an ambitious politician seeking election to higher office."
Three of the five members of the Tracy City Council are running for an open seat on the San Joaquin County Board of Supervisors. How will they distinguish themselves? Let's suck up to the construction unions!
On Tuesday, September 3, the Tracy City Council will "Discuss Project Labor Agreements for City Construction Projects and Provide Direction to Staff." See the staff report for Agenda Item #3.C - DISCUSS PROJECT LABOR AGREEMENTS FOR CITY CONSTRUCTION PROJECTS AND PROVIDE DIRECTION TO STAFF. The full agenda can be found at Tracy City Council Meeting Agenda for September 3, 2019
Whoever gets the endorsement of the construction unions gets lots of campaign funding, phone bank support, precinct walkers, letters to the editor, and all of the other benefits of a program funded by union dues. So everyone is scrambling over each other trying to prove they love construction unions more than the others.

The best way to prove commitment to a collective workforce is to use the government to force people into the collective. Therefore, the Tracy City Council will vote on proceeding to require construction companies to sign a Project Labor Agreement with unions as a condition of working on city contracts.