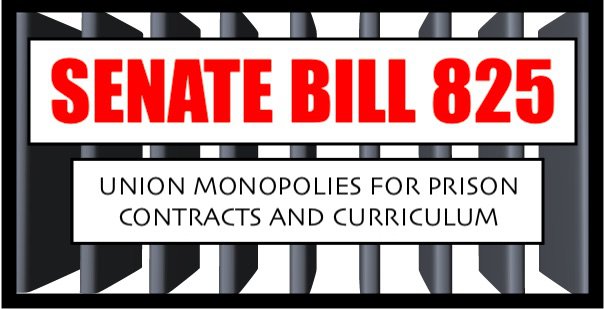 Fair and Open Competition and Freedom of Choice Eroding in California Prison System Because of Union-Backed Senate Bill 825
---
The California State Senate Public Safety Committee undermined fair and open competition and freedom of choice in training today when it voted 5-2 to pass Senate Bill 825. All five Democrats on the committee supported the bill, while Republican Senators Joel Anderson and Jeff Stone voted against it.
Sponsored by the State Building and Construction Trades Council of California, SB 825 would authorize the California Department of Corrections and Rehabilitation (CDCR) to use design-build procurement or construction manager at-risk contracts only if the prison agency requires construction companies for ten years to sign a Project Labor Agreement with unions as a condition of winning a contract over $500,000. As a result of this provision, the bill will cut competition and raise costs for future prison construction.
The issue of Project Labor Agreements will be mainly addressed through the union-controlled Senate Labor and Industrial Relations Committee. The Public Safety Committee mainly addressed another provision in Senate Bill 825 that requires exclusive use of a pre-apprenticeship training curriculum published by unions. In other words, the legislature is superseding the executive authority of the CDCR to select curriculum for its training programs and instead giving unions a monopoly on the curriculum.
According to the legislative analysis for Senate Bill 825, "If any of CALPIA's [California Prison Industry Authority] CTE [career technical education] programs are preapprenticeship training programs, they would be subject to the MC3 [that is, union] curriculum mandate in this bill. Any possible effects of this bill on CALPIA's CTE programs are unknown." Even one of the Democrats on the committee openly acknowledged that the effect would be to give unions monopoly control of pre-apprenticeship training in prisons for building trades.
While more than 40 people (almost all union officials) spoke in support of the bill, more than 80 people spoke against it. Regrettably, the fate of Senate Bill 825 was determined in the 2016, 2014, 2012, and 2010 elections. Very few Democrats in the California legislature are willing to buck the demands of construction unions, whether it is California High-Speed Rail or training for prison inmates.
Please thank Senators Jeff Stone and Joel Anderson for defending fair and open competition and freedom of choice in training. Here are links to their electronic contact information: