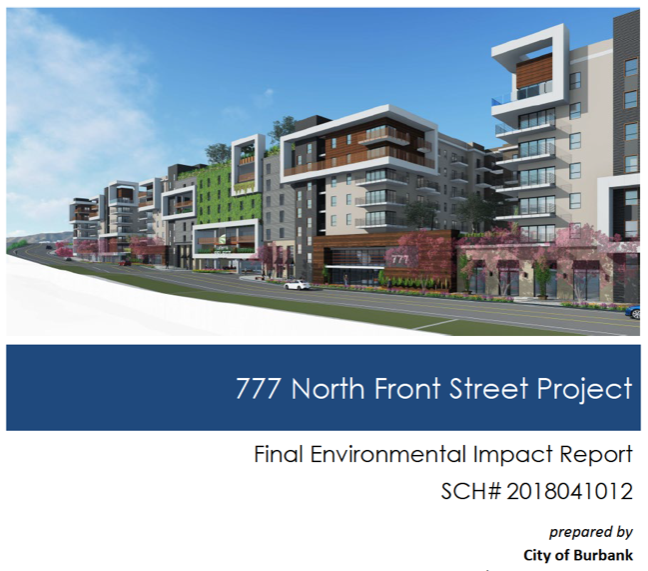 Unions Displeased with Environmental Review of 573 Residential Units with 307 Hotel Rooms on Vacant Lot in Burbank
---
Tonight (Monday, November 4, 2019), the City of Burbank Planning Board will consider approval of a mixed-use project at 777 North Front Street in Burbank. It consists one 7-story building with 252 residential units; one 8-story building with 321 residential units, one 7-story building with 307 hotel rooms, and some commercial retail space, a parking garage, and 27,800 square feet of publicly-accessible open-space on an adjacent city-owned property.
There have been two major objections throughout the environmental review required for the project under the California Environmental Quality Act (CEQA): a group called Supporters Alliance for Environmental Responsibility (SAFER) and the UNITE HERE Local 11 hotel workers union.
Supporters Alliance for Environmental Responsibility (SAFER) is an anonymous group that sprung up this year with the same legal representation (the Lozeau Drury law firm) that various local California unions of the Laborers' International Union of North America (LIUNA) retained for their comments on environmental reviews.

As is typical, UNITE HERE Local 11 is represented by the Gideon Kravoc law firm in its comments about environmental review of this project.

Comments from these two organizations are now posted on the Phony Union Tree Huggers website.
Supporters Alliance for Environmental Responsibility (SAFER) 
April 2, 2019 - Request for Notice
April 2, 2019 - Comments on Draft Environmental Impact Report (DEIR)
August 13, 2019 - Comments on Recirculated Draft Environmental Impact Report (RDEIR)

UNITE HERE Local 11
April 2, 2019 - Comments on Draft Environmental Impact Report (DEIR)
July 10, 2019 - Request for Records
August 14, 2019 - Comments on Recirculated Draft Environmental Impact Report (RDEIR)
October 31, 2019 - Letter to Planning Board Directly from UNITE HERE Local 11
https://phonyuniontreehuggers.com/wp-content/uploads/2019/11/2019-04-02-Lozeau-Drury-Supporters-Alliance-for-Environmental-Responsibility-SAFER-777-N-Front-Street-City-of-Burbank-Letter-2.pdf

https://phonyuniontreehuggers.com/wp-content/uploads/2019/11/2019-04-02-Lozeau-Drury-Supporters-Alliance-for-Environmental-Responsibility-SAFER-777-N-Front-Street-City-of-Burbank-Letter-2.pdf

April 2, 2019  Lozeau Drury - Supporters Alliance for Environmental Responsibility (SAFER) - 777 N Front Street - City of Burbank - Letter 1

https://phonyuniontreehuggers.com/wp-content/uploads/2019/11/2019-04-02-Lozeau-Drury-Supporters-Alliance-for-Environmental-Responsibility-SAFER-777-N-Front-Street-City-of-Burbank-Letter-1.pdf

Request for Notice

August 13, 2019 Lozeau Drury - Supporters Alliance for Environmental Responsibility (SAFER) - 777 N Front Street - City of Burbank - Letter

https://phonyuniontreehuggers.com/wp-content/uploads/2019/11/2019-08-13-Lozeau-Drury-Supporters-Alliance-for-Environmental-Responsibility-SAFER-777-N-Front-Street-City-of-Burbank-Letter.pdf

RDEIR Comments

August 14, 2019 Gideon Kravoc - UNITE HERE Local 11 - 777 N Front Street - City of Burbank - Letter

https://phonyuniontreehuggers.com/wp-content/uploads/2019/11/2019-08-14-Gideon-Kravoc-UNITE-HERE-Local-11-777-N-Front-Street-City-of-Burbank-Letter.pdf

Comments on RDEIR

October 31, 2019 UNITE HERE Local 11 - 777 N Front Street - City of Burbank - Letter

https://phonyuniontreehuggers.com/wp-content/uploads/2019/11/2019-10-31-Gideon-Kravoc-UNITE-HERE-Local-11-777-N-Front-Street-City-of-Burbank-Letter.pdf

Letter to Planning Board

April 2, 2019 Gideon Kravoc - UNITE HERE Local 11 - 777 N Front Street - City of Burbank - Letter

https://phonyuniontreehuggers.com/wp-content/uploads/2019/11/2019-04-02-Gideon-Kravoc-UNITE-HERE-Local-11-777-N-Front-Street-City-of-Burbank-Letter.pdf

DEIR Comments

July 10, 2019 Gideon Kravoc - UNITE HERE Local 11 - 777 N Front Street - City of Burbank - Letter

https://phonyuniontreehuggers.com/wp-content/uploads/2019/11/2019-07-10-Gideon-Kravoc-UNITE-HERE-Local-11-777-N-Front-Street-City-of-Burbank-Letter.pdf

Records Request