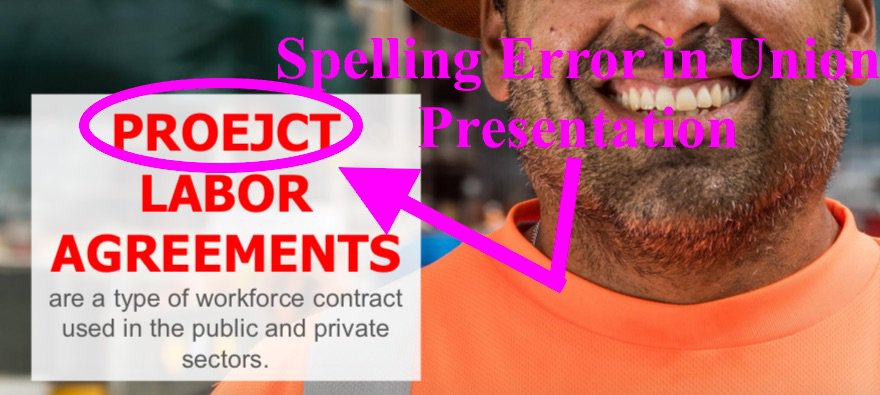 Unions Never Quit Until They Get Control: Elected Board of Santa Clara Unified School District to Consider Project Labor Agreement Yet Again
---
Never satisfied until they have a monopoly on the workforce, the Santa Clara/San Benito Counties Building & Construction Trades Council is again asking its political allies on the Santa Clara Unified School District board to cut the competition for construction contracts.
Tonight (August 9, 2018), the board will hear a "Presentation Concerning Project Labor Agreements (PLAs)" and give direction to staff. Unions will call for staff to negotiate a Project Labor Agreement with them.
Union officials want to hand over the template Project Labor Agreement authorized by their Washington, DC headquarters and declare to staff, "Here's your negotiations!" Negotiations could even happen before the end of the meeting, if there is bathroom break.
Agenda items on Project Labor Agreements have been previously scheduled for this school board for meetings on March 26, 2015, August 13, 2015, and March 9, 2017. There has been controversy over conflicts of interest and inappropriate influence as unions tried to infiltrate the board from the inside. But what else is new with unions?
In addition, after all of the district's students had become fully proficient in reading, writing, and mathematics, this school board had plenty of time during numerous meetings in 2015 and 2016 to discuss a "wage theft" ordinance pushed by the unions.
See background information here:
D.1. Presentation Concerning Project Labor Agreements (PLA)
Associated Builders and Contractors Presentation
Building Trades Council (Union) Presentation
Associated Builders and Contractors Mobile Learning Labs
Santa Clara Unified School District Project Labor Agreement Overview