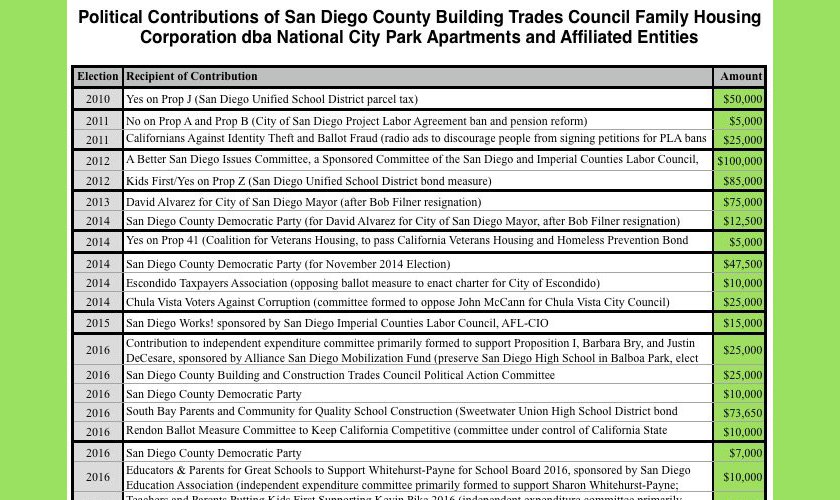 Affordable Housing Corporation Funds Bond Measure Campaigns for San Diego County College Districts with Project Labor Agreements
---
An October 29, 2016 investigative report in Union Watch exposes the political contributions of a non-profit affordable housing complex located in National City, California.
Since 2010, the "San Diego County Building Trades Council Family Housing Corporation dba National City Park Apartments" has donated about $800,000 directly to campaign committees, most of them based in San Diego County. Much of that money has been spent on promoting Project Labor Agreements and opposing efforts for fair and open bid competition on public works contracts.
It has been a top donor to campaigns to pass bond measures on November 8, 2016 for San Diego County community college and school districts where construction contractors are required to sign Project Labor Agreements (PLAs).
It donated $50,000 to the campaign to pass Measure X at the Grossmont-Cuyamaca Community College District.
It donated $50,000 to the campaign to pass Measure Z at Southwestern Community College District.
See Union-Owned Non-Profit Affordable Housing Development Active in San Diego County Politics for details about this affordable housing complex and its political support for numerous campaigns to promote Project Labor Agreements.