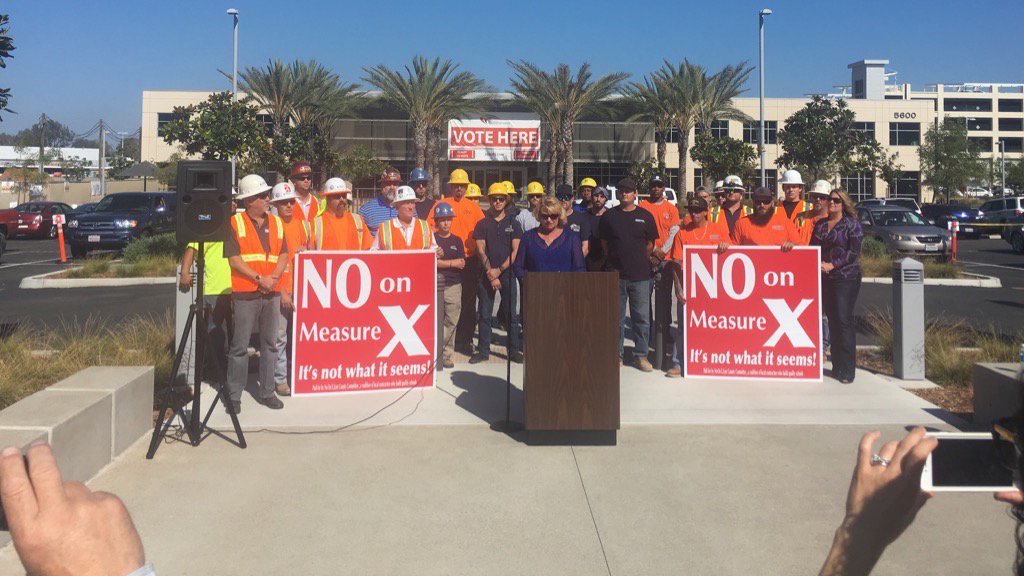 Groups Gather to Oppose Measure X, Which Authorizes Grossmont-Cuyamaca Community College District to Borrow $348 Million
---
FOR IMMEDIATE RELEASE
October 25, 2016
Contact: Eric Christen
(858) 431-6337
Groups Gather Today to Oppose Measure X, Which Authorizes Grossmont-Cuyamaca Community College District to Borrow $348 Million

Measure X is not what it seems. It will burden taxpayers for thirty years. It favors union firms and discriminates against local non-union construction workers.
San Diego, CA – Today representatives from a broad swath of the community will hold a press conference to highlight their opposition to Measure X, the Grossmont-Cuyamaca Community College District's school construction bond measure.
Measure X's $651 million in principal and interest payments, along with the ongoing debt for the district's prior two bonds, will burden East County homeowners with over a billion dollars in debt over the next thirty years. The bond is opposed by the San Diego Taxpayers Association, the East County Chamber of Commerce, and other business groups.
At today's meeting, the public will hear from Richard Rider of San Diego Tax Fighters about this Measure X debt and the "tsunami of tax increases on the November ballot."
Measure X is also being opposed by the local non-union construction industry because the District has promised to negotiate a union-friendly project labor agreement ("PLA") if the bond passes. Studies have shown that PLAs increase costs by up to 15% and local school districts that have put PLAs into effect, such as San Diego Unified and Southwestern Community College, have experienced such cost increases.
At today's meeting the public will hear from Mary Smith of Interpipe Contracting of Santee. Mary will be harmed by this PLA. Mary's company helped construct buildings on both Grossmont and Cuyamaca campuses, but will be shut out on future work under this new PLA. "This promised PLA says to my company, my workers, and my apprentices that we are no longer welcome on projects my employees and I pay taxes for!" said Smith.
Measure X is also being opposed by four construction trade associations including the Coalition for Fair Employment ("CFEC"). They are angry because the district promised "fair and open competition" with their 2012 Prop V bond, but later switched and negotiated a Project Labor Agreement. The Grossmont-Cuyamaca Community College District is expected to approve the union Project Labor Agreement for Proposition V at their November 15, 2016 meeting.
Eric Christen, CFEC's Executive Director, said "In 2012 voters approved Measure V, a $398 million construction bond. In the ballot language, the board promised there would be no PLA. But one of their first actions was to ignore this promise to taxpayers and agree to negotiate a PLA. We can't trust this District with our tax money."
According to the group,  Big Bad Bonds, there are 184 school bonds on the November ballot in California. While most of these bonds go unopposed, Measure X is strongly opposed in East County. Christen added, "This unprecedented type of opposition to a school construction bond shows just how upset people are about this Board's betrayal of their trust on their previous bond measure."
Opposition to Measure X includes the following: The San Diego Taxpayers Association, The San Diego Tax Fighters, The San Diego East County Chamber of Commerce, The Lakeside Chamber of Commerce, The Associated General Contractors of San Diego, The Associated Builders and Contractors of San Diego, The Western Electrical Contractors Association, The Coalition for Fair Employment in Construction, The California Republican Assembly, The Lincoln Club of San Diego, and the San Diego County Republican Party.
For more information, see NoOnXEastCounty.com
The press conference will be held at 11am in front of the Registrar of Voters' office in Kearny Mesa. The address is 5600 Overland Ave, San Diego