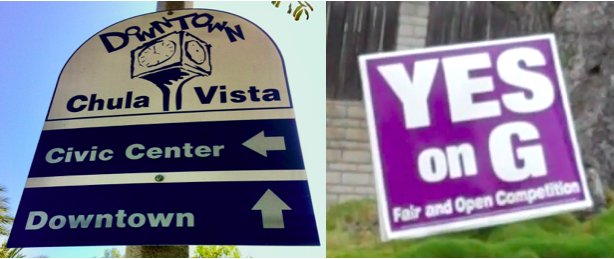 Chula Vista City Council May Ask Voters to Repeal Ordinance Voters Approved in 2010 to Prohibit Project Labor Agreements
---
In June 2010, 56 percent of voters in the City of Chula Vista (in San Diego County) voted for a ballot measure (Proposition G) to enact an ordinance prohibiting the City of Chula Vista from entering into contracts that require construction companies to sign a Project Labor Agreement with unions.
Ten years later, many of the fiscally responsible Chula Vista residents who voted for Proposition G have likely died or moved out of California. So now unions and their allies on the Chula Vista City Council have decided that it's time to repeal Proposition G (and presumably afterwards enact a Project Labor Agreement requirement for its construction contracts).
Apparently the Chula Vista City Council is apparently still a little nervous about their plot, because the item on their December 3, 2019 meeting agenda to put the repeal on the March 2020 ballot doesn't mention Proposition G nor Project Labor Agreements.
6. RESOLUTION OF THE CITY COUNCIL OF THE CITY OF CHULA VISTA: (A) AMENDING RESOLUTION NO. 2019-196 CALLING A GENERAL ELECTION TO BE HELD ON MARCH 3, 2020; (B) ORDERING SUBMISSION TO THE QUALIFIED ELECTORS OF THE CITY A MEASURE TO REPEAL AND REPLACE CHULA VISTA MUNICIPAL CODE CHAPTER 2.59; (C) AUTHORIZING THE MAYOR TO SUBMIT BALLOT ARGUMENTS IN FAVOR OF THE MEASURE; AND (D) DIRECTING THE CITY ATTORNEY TO PREPARE AN IMPARTIAL ANALYSIS OF THE MEASURE; AND (E) APPROPRIATING FUNDS ACCORDINGLY (4/5 VOTE REQUIRED)

But the material provided for the agenda item reveals its true nature: giving unions monopoly control of construction contracts.
Ordinance
The People of the City of Chula Vista do ordain as follows: 
Section 1. Existing Chapter 2.59 of the Chula Vista Municipal Code is hereby repealed and replaced as provided in Section 2, below. 
Section 2. The City Council of the City of Chula Vista shall, within 180 days of the effective date of this ordinance, adopt local policies and procedures that allow City's use of project labor agreements ("PLAs"), and related provisions commonly associated with PLAs, in public works contracting. The policies and procedures adopted pursuant to this section (the "PLA Policies") shall include (a) all of the taxpayer protection provisions required by California Public Contract Code section 2500; (b) such other provisions as may be necessary to be consistent with applicable state law; (c) provisions for transparency, accountability and compliance in the contracting process; and (d) such other provisions as may be approved by the City Council consistent with state law and "best practices" as determined by the City Council.
Section 3. Until such time as the PLA Policies are adopted, the City shall comply with the provisions of California Public Contract Code sections 2500, et seq.
It's rare in California to see a proposal to repeal a law, as elected officials much prefer to pass new laws. But slowly but surely, every taxpayer protection at the state and local level in California is being repealed at the demand of union lobbyists.
Fair and Open Competition ordinances like the one in the City of Chula Vista are one example of doomed laws.