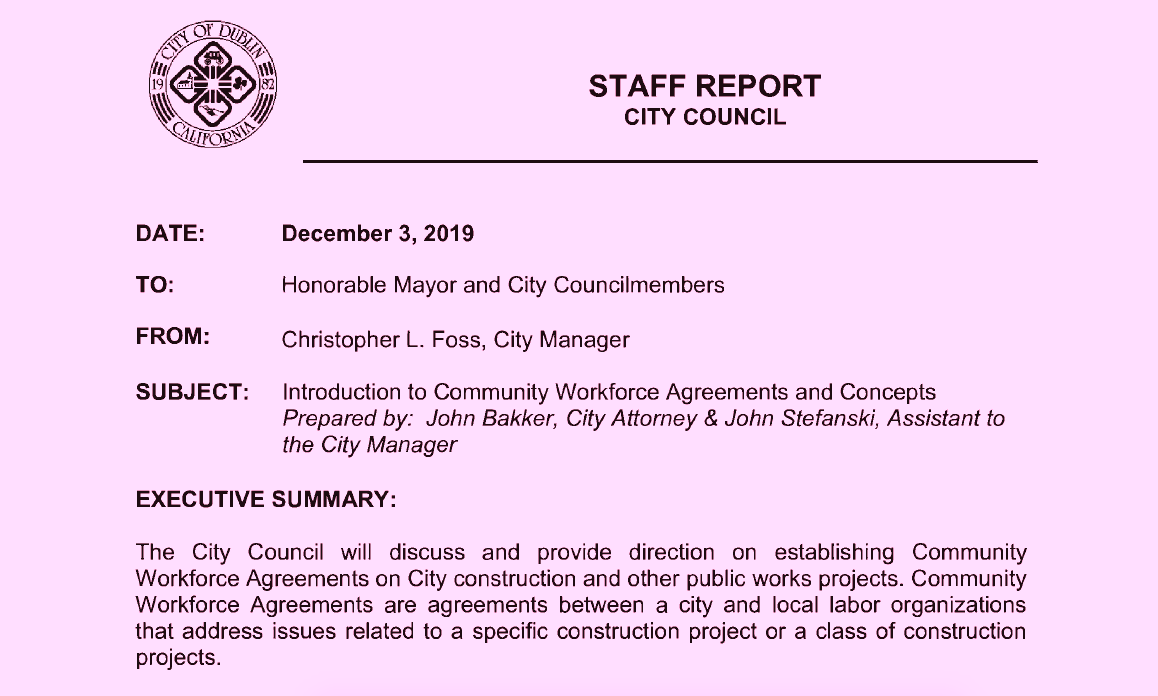 Dublin City Council Votes at December 3 Meeting to Negotiate Project Labor Agreement with Unions for City Construction Contracts
---
In 2010 and 2011, construction unions pressed the Dublin City Council to require its construction contractors to sign a Project Labor Agreement with unions. In the end, the city council did not proceed with any serious discussions about fulfilling the union demands.
But California is different in 2019, and this time the Dublin City Council is going to vote on December 3 on negotiating a Project Labor Agreement.
8.2.  Introduction to Community Workforce Agreements and Concepts
The City Council will discuss and provide direction on establishing Community Workforce Agreements on City construction and other public works projects. Community Workforce Agreements are agreements between a city and local labor organizations that address issues related to a specific construction project or a class of construction projects.
STAFF RECOMMENDATION: Receive the report and provide direction, if any, on potential Community Workforce Agreements on City public works projects.
The staff report lists the local governments in Alameda County that require their construction contractors to sign Project Labor Agreements:

City of Alameda

County of Alameda: General Services Agency

City of Berkeley

City of Hayward

Hayward Unified School District

Port of Oakland

City of San Leandro

San Leandro Unified School District

They neglected to include the Berkeley Unified School District, Fremont Unified School District, Oakland Unified School District, Chabot-Las Positas Community College District, Ohlone Community College District, and the Peralta Community College District.
None of these local governments would be regarded as paragons of fiscal responsibility. But sometimes government leadership decides that their future is bound to union political power rather than the prudent expenditure of public funds. This may be the case on December 3 with the Dublin City Council.