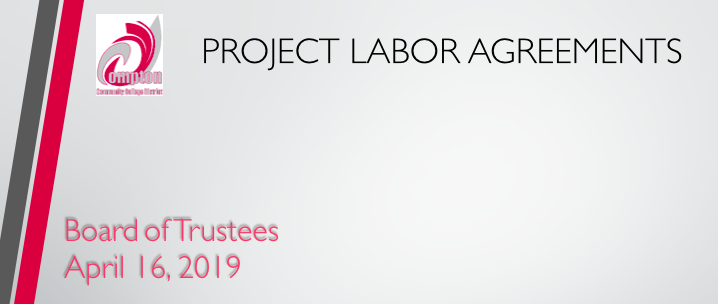 Compton Community College District Looks at Project Labor Agreement Mandate for Future Construction Contracts
---
Today (April 16, 2019) the Compton Community College District elected board of trustees will receive a presentation about requiring companies to sign a Project Labor Agreement with unions in order to work on college construction projects.
The slide presentation ("Project Labor Agreements") explains what a Project Labor Agreement does in practice, including some of the uncomfortable provisions people don't like to talk about. These include "Union hiring hall labor; exclusive source of project craft labor or priority preference for union hiring hall labor" and craft labor "subject to union contributions and terms of PLA."
It also lists the traditional arguments against Project Labor Agreements:

PLAs erode competitive bidding process; bid competition reduced if capable non-union contractors elect not to bid projects subject to PLA, potentially resulting in higher project costs

Workforce and work assignments subject to union rules and collective bargaining requirements

Union recruitment of craft labor

Non-union craft laborers contributions for union representation and union health/benefits

Loss of value for non-union craft labor mandated union contributions during project

Increased project costs where collective bargaining wage rates exceed prevailing wage rates or inadequate bid competition 

Administrative burdens and costs to District for PLA negotiation, implementation and administration

It does not list the real reasons for Project Labor Agreements, specifically the argument that campaign contributors should be rewarded by getting monopoly control of public contracts.