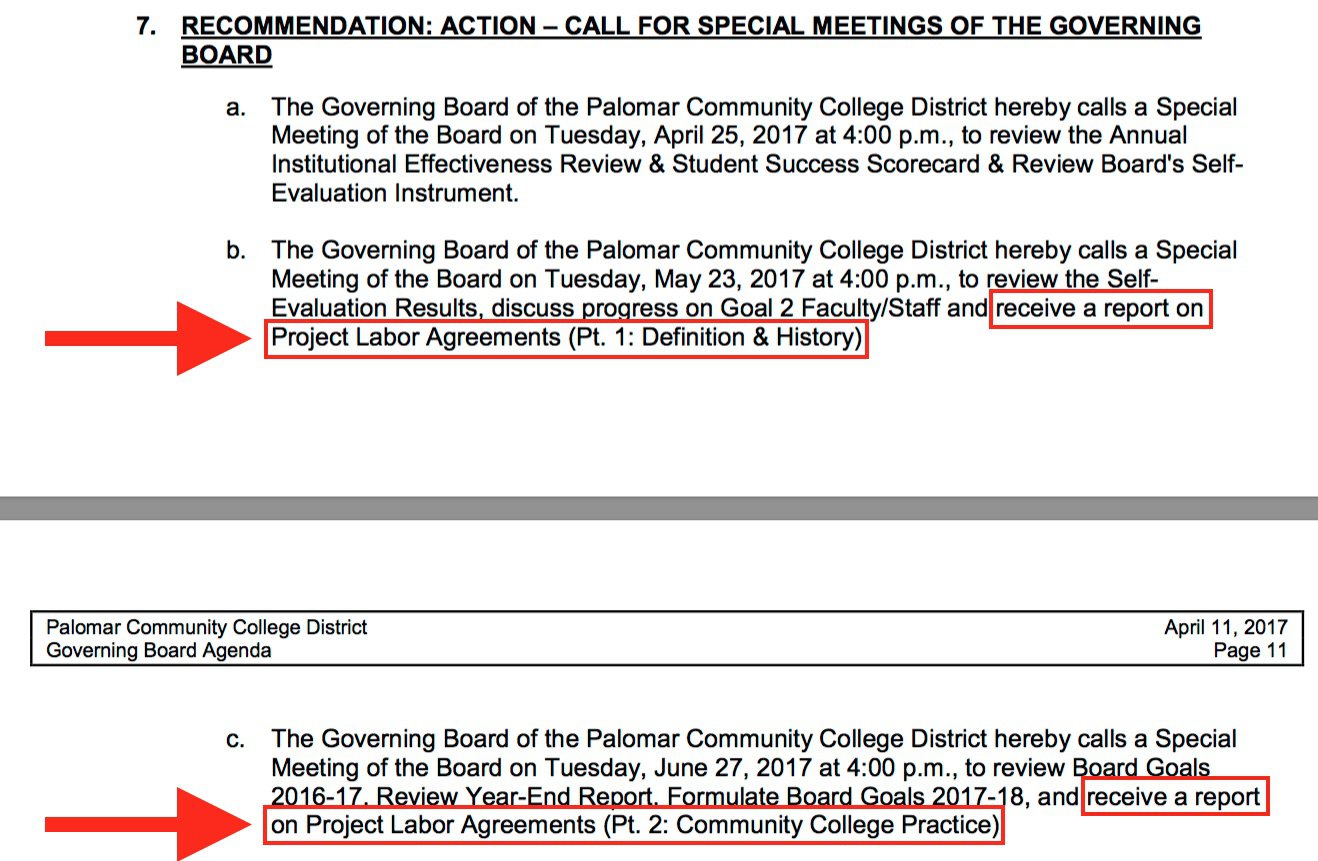 Palomar Community College District Board Considers Project Labor Agreement
---
After two years of rumors, the Palomar Community College District (North San Diego County) Board of Trustees has scheduled two meetings to discuss Project Labor Agreements (PLAs). The first meeting will be held on Tuesday, May 23 and the second meeting on Tuesday, June 27.
The correspondence below was emailed today (May 17, 2017) to the Board of the Foundation of the Palomar Community College District in San Diego County. You can also contact them using this list of auxiliary organization leadership: Palomar Foundation - Auxillary Group Contacts.
Re: The Palomar CCD Board of Trustees is considering a Project Labor Agreement. This would be a mistake.
Palomar Foundation Board: 
My name is Eric Christen and I am the Executive Director of the Coalition for Fair Employment in Construction (CFEC). We were created 18 years ago to oppose what are known as Project Labor Agreements (PLAs). PLAs are discriminatory and wasteful agreements that are pushed by big labor special interests on construction projects in an effort to diminish the opportunities of merit shop (union-free) companies to successfully bid work. PLAs are so controversial that voters in San Diego County actually voted to ban them overwhelmingly 75% to 25% in 2010. You can read more about how PLAs discriminate against workers, employers and apprentices here.
I am writing to you today because the Palomar Community College District Board of Trustees is now laying the groundwork to put a PLA into place on all remaining Prop M bond work. Approved in 2006 this $694 million construction bond has a 10 year track record of success. Union and non-union companies are bidding your work, work that is being completed on time and on budget. But suddenly local big labor special interests think that following November's elections they have the political power on Board of Trustees to put a PLA into place on the remaining $130 million of work. The PLA is a solution in search of a problem and is an affront to the hard working men and women who choose to be union free. PLAs are also something opposed by taxpayers because of the fact PLAs reduce the value of any bond they are placed on by 13-15%.
PLAs have no place in construction. PLAs have no place in America. They are discrimination, period. I want to make you aware that should the Board of Trustees go down the road of using a PLA on its remaining work we will be left in the unfortunate position of making it known to our contractor members, many of whom support your Foundation through its annual President's Invitational Golf Tournament, that Palomar no longer welcomes them and their employees. You can imagine the impact this could have on your ability raise needed funds for the important work the Foundation does. We will also work to educate the greater Palomar community, taxpayers, students and voters, about where this college stands on the issue of inclusion and best business practices.
Of course we hope it does not come to this but that will, in part, be determined by your ability to talk sense to a board that right now is listening to special interests instead of the greater community. They are scheduled to discuss the PLA issue at their May 23rd meeting.
Thank you for taking time to read this correspondence. Please feel free to contact me with any questions or comments you may have.
Eric Christen
Executive Director
Coalition for Fair Employment in Construction