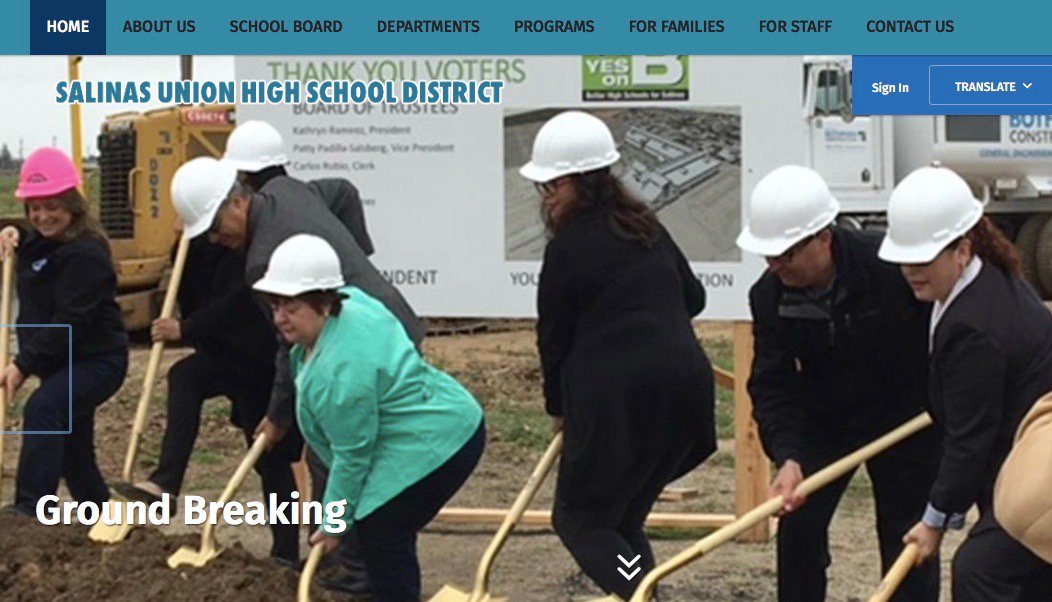 Promise in Project Labor Agreement of "Timely and Successful Completion" Not Achieved at Salinas Union High School District
---
The Coalition for Fair Employment in Construction sent this email on May 14 to the elected board of trustees and top administrators of the Salinas Union High School District.
---
From: Eric Christen
Sent: Tuesday, May 14, 2019 12:45 PM
Subject: The Latest Regarding Your Union PLA Covered High School Which is STILL Not Complete
Importance: High
Dear Salinas Union High School District board members:
Some of you fondly remember September 29, 2015, when the board (in a 5-1 vote) required contractors to sign a Project Labor Agreement with unions in order to work on the new high school #5, now known as Rancho San Juan High School. The celebrated agreement declared that "the timely and successful completion of the Project is of the utmost importance to the District to meet the needs of the District and to avoid increased costs resulting from delays in construction."
Congratulations on the timely and successful completion of the Project! (KION story on high school debacle).
Today you'll be voting for a resolution to accept the construction work as complete, direct the project architect to issue a Certificate of Final Completion, and authorize District staff to prepare and file a Notice of Completion in the Monterey County Recorder's Office. 
Accept Work as Complete; Issue Certificate of Final Completion; and Authorize Recording of Notice of Completion Regarding High School No. 5 / Rancho San Juan High School Phase I Construction Projec 
Also on today you'll be voting on a resolution approving and authorizing emergency work, award of contract without bidding and advertising to complete work on high school #5 and avoid immediate health and safety concerns. Again, congratulations on the timely and successful completion of the Project!
Resolution 19-81 Approving and Authorizing Emergency Work; Award of Contract to Complete Work on High School #5 Project
Please also find attached  the board reports and change order #15, which has total of approved change orders to date. Under this PLA there have now been several hundred change orders submitted, many of which have not been paid. So much for PLA projects eliminating this type of thing. 
The filing of the "Notice of Completion" in reality just allows the District to take over the buildings (now under control of the general contractor) and opens the door for the lawsuits which you yourselves have stated you will be partaking in. I understand the GC will file a "huge" lawsuit themselves, not only for construction funding due (the district has been withholding 20% retention as well as not approving extra work funding on work that has been completed) but also for also defamation. That will be more fun I'm sure.
Finally, you may have seen that on May Day (May 1), hundreds of construction workers in San Jose went on the (Communist) International Workers Day march through the city streets demanding jobs. Although it looks like Silicon Valley is going wild with construction, union leaders there said things are grim for local union workers.
A Project Labor Agreement on emergency work at High School #5 gives San Jose workers a chance. That is true.
But as an alternative, there are many workers within reasonable driving distance of Salinas who can do the job but choose not to wait for a union to dispatch them to a job site covered by a Project Labor Agreement. How about getting those workers involved in the timely and successful completion of the Project? The Coalition for Fair Employment in Construction thinks it's time for a change.
It's an emergency now. The unions had their prize, with the timely and successful contract. Award the emergency contract without the extra union mandate. 
With Mr. Chesshire's blessing, of course.  
Eric Christen
Executive Director
Coalition for Fair Employment in Construction